Easy Spicy Beef Chili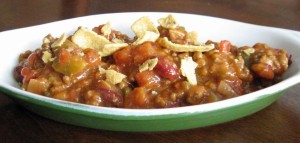 1 3/4 pound ground beef
1 small white onion, chopped
1 large green bell pepper, stem & seeds removed, chopped
3 cloves garlic, minced
1 (28 ounce) can + 1 (15ounce) can diced tomatoes, un-drained
1 (15 ounce) can tomato sauce
1 (16 ounce) can kidney beans, un-drained
2 jalapeños, finely chopped (or add to taste)
1 bay leaf
1/2 teaspoon ground cumin
2 1/2 tablespoons chili powder
Salt and pepper to taste
In a large saucepan or stockpot over medium high heat, cook the ground beef just until it starts to brown. Drain. Add onion and bell pepper, and sauté for another 5 minutes. Add garlic and sauté one minute more, or until beef is browned and onion & pepper has softened.
Add the un-drained tomatoes, tomato sauce, beans, jalapenos, bay leaf and spices. Bring to a boil, reduce heat & cover. Simmer for 1 hour, stirring occasionally.
* Cooking Notes
For a healthier chili, use lean ground beef, or substitute the ground beef with ground turkey.
For a vegetarian chili, omit the meat and add 1 can each of black beans and great Northern beans.